Roof Cleaning
Yes, your trusted cleaning service can even clean your roof! Viviane's Cleaning & Restoration Inc provides pressure washing services to clean your driveway, deck, sidewalk or roof. Our power washing technicians have the experience and tools necessary to thoroughly clean all exterior surfaces of your home by applying highly pressured water and just the right amount of cleaning agents to remove dirt, moss, mold, and mildew.
---
Call for a FREE Quote
---
Roof Cleaning
35% OFF
(must mention discount)
expires 10/31/2021
Roof Cleaning Done Right
If your roof is dull or stained with mildew, Viviane's Cleaning & Restoration Inc can provide pressure washing services to thoroughly clean it. Pressure washing can eliminate moss, dust, dirt, leaves and many other types of build-up from area rooftops.
Viviane's Cleaning & Restoration Inc uses a revolutionary cleaning product that has a biodegradable, non-corrosive, non-caustic, non-acidic, eco-friendly chemical to remove algae, mildew, fungus and stains from your roof and exterior surfaces without hurting or damaging your biggest investment. What's more, using our highly effective cleaning products, your landscaping will never be compromised!
Viviane's Cleaning & Restoration Inc's Roof Cleaning Services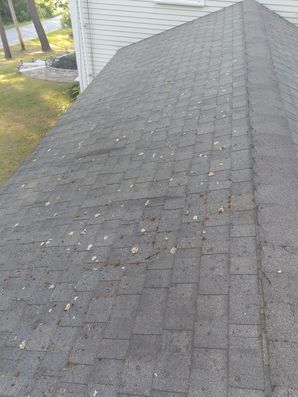 Viviane's Cleaning & Restoration Inc proudly provides pressure washing solutions that include:
Roof cleaning - one time or maintenance programs
Thorough cleaning of home exteriors
Pressure washing of debris on driveways, sidewalks, decks, and patios
Removal of mold and mildew from roofs sheds and fences
Removal of buildup and stains from home foundations other hard surfaces
**Please NOTE: Roof Pressure Washing Pricing Starts at $899**